Over the summer we ran Virtual Treasure Hunts in many of our funded programmes. For 5 weeks users were encouraged to get out as a family on a walk and find the hidden treasure set in many local parks (and we even had one on a beach promenade.) There were many weekly prizes given away and one grand prize bundle in each programme.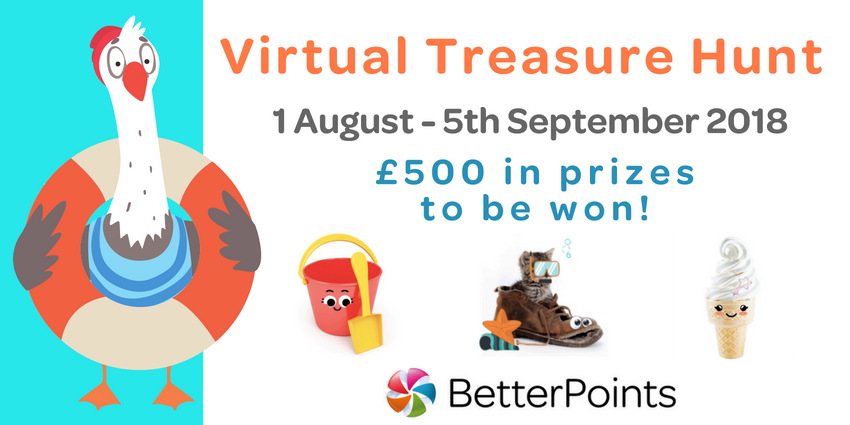 These lucky families were picked at random as our Grand Prize winners:
Pushing Ahead Norfolk - The Poundall family
BetterPoints Salford Active Walk - The Bewley family
Choose How You Move Leicester and Leicestershire - The Bowers family
Love Your Park Ealing - The Lichtarowicz family
The Sutton Plan - The Wilton family
Get Active in Ebbsfleet - The Cochrane family
We contacted our winners and they gave us some really useful feedback about participating in the Treasure Hunt and were naturally very pleased to be winners:
"Just letting you know the virtual Treasure Hunt grand prize arrived safely at the weekend. Wow - thank you so much! We found the Treasure Hunt easy to take part in and it added fun to our family walks. In terms of feedback it might have been better to have a different Treasure Hunt story for each park. Also with regard to the choice of parks Heartsease and Jubilee parks were relatively small and didn't take very long at all to walk around. Bigger parks such as Eaton Park, Waterloo Park or Wensum Park might have better choices. Thanks again!" - Stephen
Thanks for the really useful feedback Stephen! Have fun using your National Trust Membership.
"We were so pleased and surprised to hear we had won the grand prize. I am a single mum and my 9 and 10 yr old and I had so much fun over the summer looking for treasure. In fact we visited a park that we had never been to and enjoyed exploring all it had to offer. We will definitely now visit this park more often so that's wonderful. We hope that you repeat this programme again in the future, perhaps offering it in more parks or different ones.

One thing I would like to suggest is that as Leicestershire summer holidays start in mid-July that the virtual summer treasure hunt could start then too. We had 2 weeks when we could have been out collecting tickets!

As I mentioned before I am a single mum and so to win these prizes means so much to us. We will be able to order pizza, go to the cinema and to Flip Out trampoline park; things we don't often get to do. What treats! As for the National Trust giftcard, we love the NT and regularly visit. As we are already members this hopefully means we can treat ourselves to something from the shop. We love BetterPoints and I will continue to spread the word. Warm regards." - Gillian
We are so pleased that by being active as a family you won so many rewards Gillian to keep the cost down of entertaining children over the summer.
"Thank you for the prizes. I didn't know that there was a grand prize until I got the email. They came this morning. We are really thrilled about the National Trust vouchers as our membership had run out and we decided not to renew as our younger daughter wanted to start singing lessons and our son is about to start playgroup so it was one of those nice to haves that we needed to give up!" - Ania
This news pleases us Ania that you can continue to have a National Trust membership on BetterPoints for being active with your whole family.
Well done to everyone that took part in the Treasure Hunt we do hope your families enjoyed finding all the items.